Are you still working from home like me? if your answer is yes then this post is for you. Once you know these stores for home decor, you can easily give your space a complete makeover without breaking the bank.
We have been working from home for almost two years now, and even though we have started going back to the office, it is still not the way it was before the pandemic.
This means our homes have become a haven, I never thought I could see so much of my own home!
This also many of us are doing things to make it nicer, prettier, more comfortable, and more appealing … it can get super boring looking at the same cushions every day!
So, I want to share with you the best stores to shop for home decor on a budget so that you can improve how your home looks and feels without breaking the bank.
I need you to still have enough money to build an emergency fund, save, invest, and put in your pension fund. We are not quitting the Bulletproof journey for fancy throws!
So, here you go:
I have to start with Ikea because it is that one store that offers a lot. Ikea is a store that requires you to be patient because navigating an Ikea store is not a joke.
I don't buy Ikea online. I prefer buying Ikea in a walk-in store than visiting their online store because there is a high delivery charge that comes with buying from them online.www.ikea.comI don't buy Ikea online. I prefer buying Ikea in a walk-in store than visiting their online store because there is a high delivery charge that comes with buying from them online.
When you go to Ikea, it is easy to get lost and frustrated because you have to go through all the maze and numbers, but if you are patient, you can get a lot. It's a great place to get kitchen items.
I would usually not buy pots from Ikea, but I can buy things like knives, wine cups, children's plates, cutleries, Tupperware, glass jars, storage jars, wooden spoons, napkins, aprons, and a whole lot.
Ikea is also a fantastic place to purchase home accessories, furniture (especially bedroom furniture like drawers, dressing tables, mirrors, and beds), bathroom things like bath mats and towels, and children's bedroom furniture. I once bought an Ikea bed with storage underneath that lasted six years.
Ikea is a great store to start if you want to stay within budget. However, I will advise you not to furnish your whole house with Ikea because sometimes it gets easy to spot Ikea products.
Wayfair is an online store for good quality rugs, cushions, beds, beddings, art, and all sorts of things. I once bought a beautiful dining table and a console table from Wayfair. It is budget-friendly, affordable, and still gives you that good look.
You are probably reading this wondering why Habitat is considered an affordable store. It can be budget-friendly if you watch out for sales or decide on the kind of things you buy there.
When putting your house together, you do not want to have that Ikea look all over, and so you may want to put in a few solid pieces that look good and still affordable; this is why I am recommending Habitat.
It is a great place to get good household items like plates, cutleries, and furniture.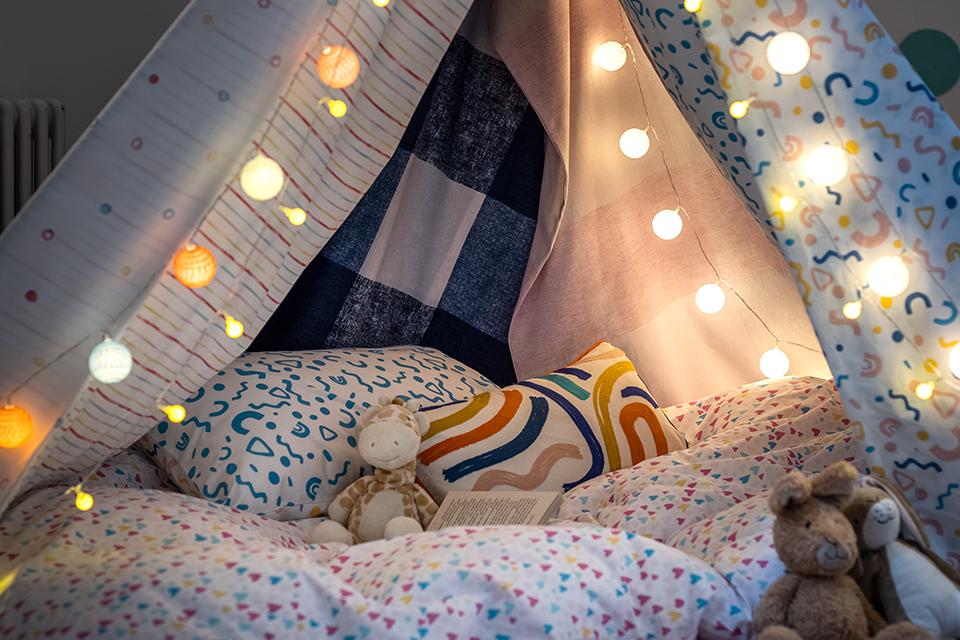 Now you should know that almost every store is on New Year sales and this is the best time to be buying from Made. You get to save about 20-30% off your furniture if you buy from Made around this time of the year.
I discovered Made when they just newly opened in 2017. I got my living room sofas from there. Their products are affordable, fantastic, and gorgeous.
There are some things I would not buy from Made because they may be a bit pricey, but when it comes to furniture and mirrors, Made is a place to go.
Cult furniture is another online furniture store that sells trendy affordable pieces like dining chairs, bedside tables, drawers, etc. I love them because they are trendy and have good customer service. If anything goes wrong with your furniture, they have a reputation for responding well.
These are not furniture stores, but they have good home décor items in their home section. M&S is great for beddings and cushions. H&M is great for the little bits and pieces, accessories, children's towels, and beddings.
These four stores are not majorly known for home furnishing, but you can always visit their home sections for nice home accessories.
eBay and Amazon are places where you can get lots of home furnishing items. eBay is majorly good if you do not mind buying things that have been used by other people and still look good. Amazon sells a lot of home accessories also.
I have never bought furniture from Amazon, but I have seen some online, and the prices are affordable. They also have great home accessories like feather pillows, cushion fillings, vases, cushion covers, and little bits and bulbs.
These stores are great for home accessories and furnishing your home; they are fantastic for soft décor especially. Also, if you want to get good art, Homesense is the best place to visit.
If you do not want to buy prints or just stretched canvas art, Home sense is the perfect place to purchase your luxurious framed, nice canvas.
You will find beautiful art for £90, £70, and as low as £50 there. If you want a gigantic art, you will probably spend about £250; which is still quite affordable.
Home Bargains and B&M stores sell a lot of cleaning and home accessories. You can check them out if you are looking to stay within budget.
Sainsbury has a lot of nice home décors like pots, pans, artificial flowers, vases, scents, towels, and other lovely things to make your home look nice; you can also find a cushion and cushion covers in these stores.
If you go shopping anytime at Tesco or Sainsbury, you can check out their home section, and you will find lots of options there.
Wilko is another good place to get your home accessories, especially kitchen accessories. Wilco will give you Ikea type of products in terms of glass jars, pots, pans, cutleries, plates, tea mugs, and much more.
Homebase and B&Q are also good to purchase affordable things to push your DIY hobby or business. I love to paint and buy home painting materials, and these two stores are my best stores to get them.
For your home lighting, I suggest that you visit Amazon, Wayfair, eBay, Ikea, Home base, and B&Q. Their lights are affordable and make your space look good.
I have now shared about 20 affordable stores for home decor to make your space look lovely, comforting, and welcoming.
You do not have to go into debt because you are sprucing up your house. You can affordably do this and still end up having a home that brings you so much joy and improves your mental wellbeing.
I hope you have enjoyed his post and find it useful.
Till next time.
With love,
Ronke O.